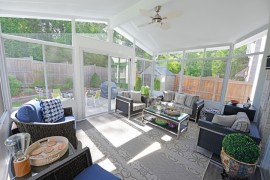 Do you ever look at you home and love it but wish there was just a little more room?
Adding a sunroom to your home is the perfect way to keep the home you love and create more livable space for your needs. And because it's a bonus room you can get really creative with how you want to decorate and use the new found space! Over the years we've seen a lot of people do some pretty creative things with their sunrooms and if you're looking for inspiration, we've created a list of some of our favorite sunroom ideas.
1) Artist Studio
Are you an avid painter? Imagine how breathtaking it would be too create your masterpieces in natural light all year round. Artists often use their surroundings as inspiration and a custom sunroom can give you the feeling of painting outside without the elements to disturb your materials so you can focus on creating and not running for cover when heavy winds or storms hit!
2) Entertainment Room
Would you love to watch family movies under the stars without having to worry about bugs or mosquitos cramping your style? Sunrooms are fully equipped with electrical to function as another space for you to Netflix and chill while enjoying the beauty of the outdoors!
3) Hot Tub Heaven
Many people use hot tubs as forms of physical therapy. Creating a sunroom space to accommodate a hot tub is an excellent and feasible way to get all of the medical benefits of your hot tub all year round!
4) Play Room
In the cold winter months do you wish the kids could just play outside? Creating a sunroom with a play room concept is a great way for your kiddos to enjoy the outdoors, indoors and push their imaginations to the max!
5) Man Cave
Looking for a Man Cave for the boys? Some of our favorite sunroom jobs were homes to pool tables, golf simulators, poker tables, bar areas and big screen TV's. Extra bonus, your car can finally have the garage back!
6) Zen Out
How about a space that screams bliss? Imagine a yogi inspired sunroom to do your favourite practices and meditations with the beauty of the outdoors around you all year round!